This is Andreas, Visiba Care's Mobile Tech/Team Lead!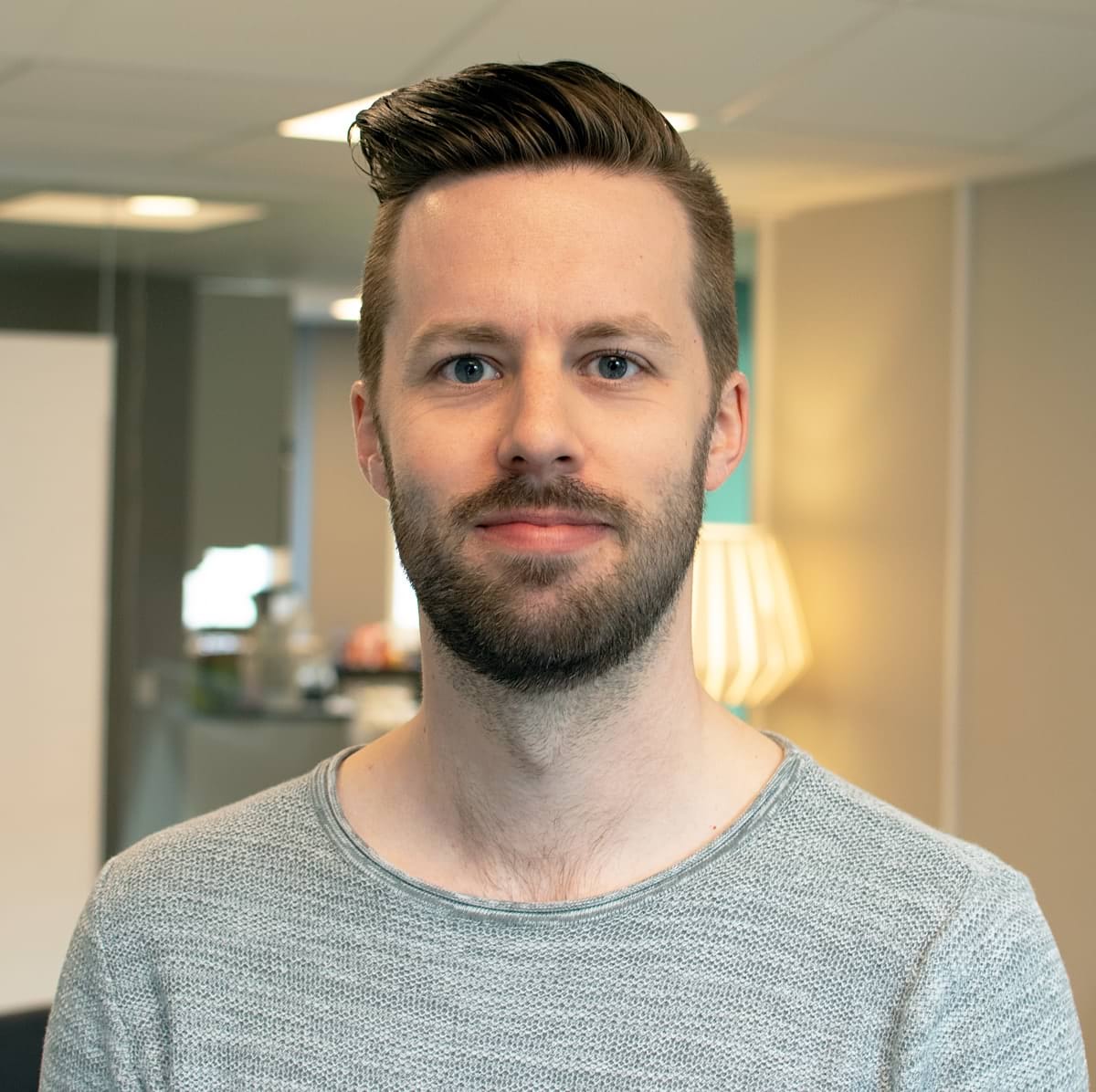 His name is Andreas – but everyone calls him Astlind! He's a tech veteran at Visiba Care and an early adopter in iOS app development. His motto? 'If you're happy at work, you deliver better!'
Tell us a bit about yourself and your background.
I'm a 34-year-old father of 2 living in Örebro (starting with the facts). I'm a driven person that wants stuff done. My inner motivation and what makes me happy is when people succeed. I tend to have FOMO (fear of missing out) but I could translate that as a fear of missing opportunities – while we may joke about it, it's what drives me! I want to follow what is happening and find the opportunities, for myself and others.
I grew up in Söderköping and I moved to Örebro to study Sound engineering. Since there weren't that many job opportunities, I jumped off this path and studied System analysis. I got a job at a web consulting firm and, when the iPhone came out, they asked us if there's someone who wants to work with these "new mobile apps". Being the FOMO person I am, I thought of it as an opportunity and jumped on that. That essentially made me an app developer! I worked in Stockholm, with H&M and other large companies and then I started at Visiba Care as an app developer!
What was it like working as an app developer that early as opposed to now? 
You couldn't google stuff and get answers online; you had to solve problems yourself because there was no community! It's certainly different now! But that made my resumé interesting to big companies that were looking for early app developers. When I saw the iPhone, I didn't immediately think that I'm going to be an app developer, I just grabbed an opportunity. I can't say that I'm a huge tech nerd; I think of it more from a user perspective instead of deep-diving into the technology itself. If I programme something, how can someone use it in their daily life? That's more of my approach – which is what I apply a Visiba Care.
What does your role at Visiba Care include? 
I am a Mobile Tech/Team Lead. I am responsible for a team and I am active in strategic planning, where we discuss how do we solve specific problems with technology. I'm one of the tech sounding boards in the Product team, so I'm one of the connections between Product and Tech. I translate the deliveries from Product to the Engineering team. Also, it may be a cliché, but I strive to participate in bringing a culture of being open and interested, as well as having fun at work. I am using my team lead role for that – make us effective, while having a good time and delivering. If you're happy at work, you deliver better – That's my motto. 
What makes working at Visiba Care special? 
There's nothing more fun than hanging out with the people at Visiba Care and knowing that we can be friends as well as colleagues. That is for me one of the main reasons I work at Visiba Care. We have a culture of being open-minded and inclusive. We're genuinely interested in each other and you never have to feel alone here. I hope that this will be the culture for many years to come – even if we grow! That's a credit to everyone.
What is your focus for the next 6 months? 
Professionally, I'll be focusing on a successful Red Robin launch – our automated triage and medical history-taking solution. I also want to make people at Visiba Care enjoy their everyday lives at work!
Who is Andreas out of office? 
I like to hang out with my friends, deep-dive in different topic discussions and learn more. I like sports, I'm an Arsenal fan, so I visit London occasionally to see them play – I love this town.
What are some fun facts about yourself?
I'm kind of scared of small animals! Mice, rats, spiders, that type ­– and living in a house is not helping. I'd invite Bon Iver for dinner, he seems to have some kind of aura around him. I don't look the part, but I'm a metal guy, particularly progressive metal nowadays, with great riffs. I am a coffee-nerd: I'm interested in speciality coffee from local producers/farms. I believe that coffee farmers should be paid fairly and be able to live on that. My home has about 5 different types of coffee makers, all from a normal brewer to different manual pour-over techniques.