Chris, our Customer Success Manager, bridges change management and digital transformation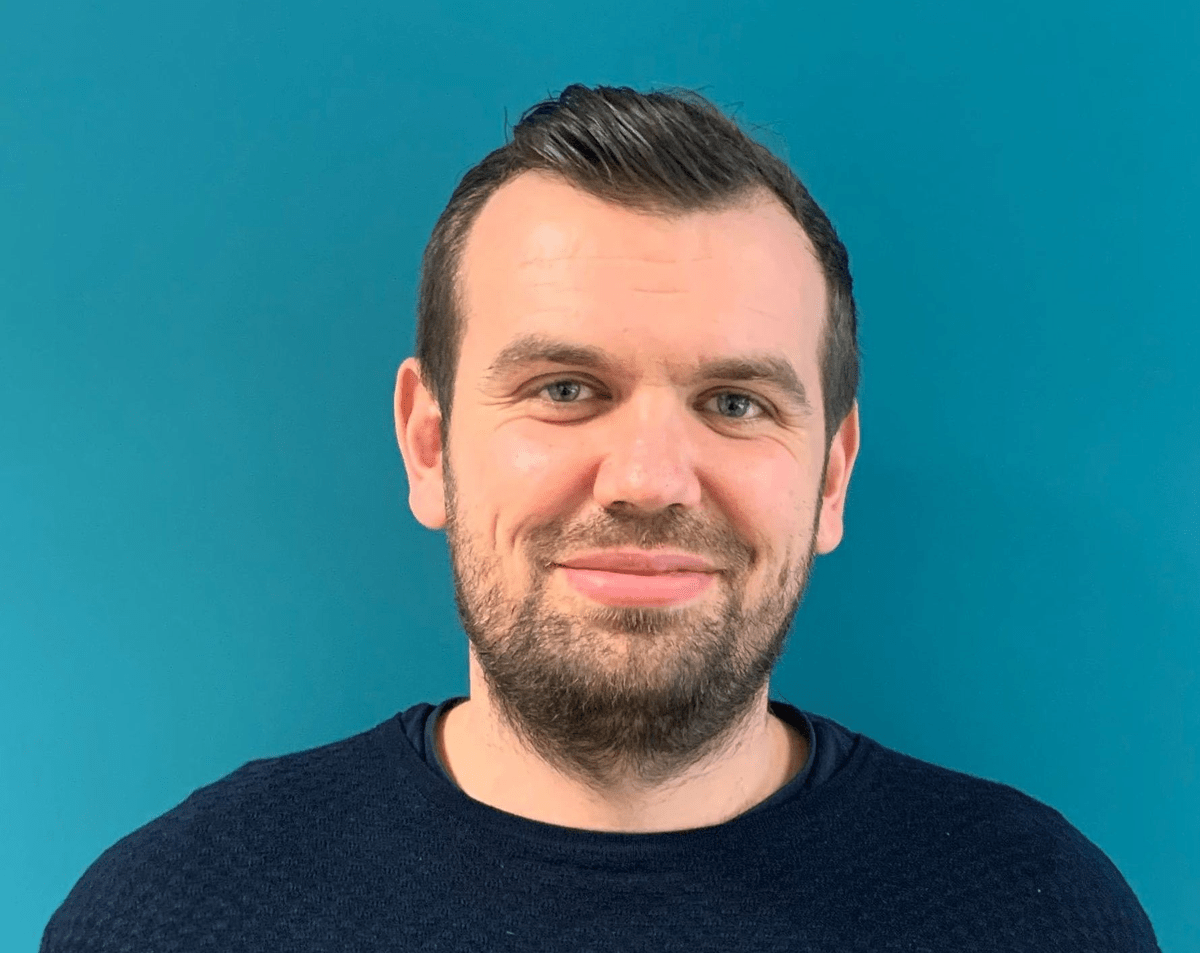 Chris Ward joined Visiba UK as a Customer Success Manager a mere few weeks before the declaration of the pandemic – and he has since then witnessed first hand the large national effort for digital transformation in healthcare. An intelligent problem solver with a pragmatic mindset, in this interview, Chris tells us about his role, he brings his insights from both the Nordic and the UK healthcare industry, and he shares what he would prioritise as a Digital Transformation Officer!
Tell us a bit about your background. 
I studied Information Systems – I graduated during the last recession and it was a tough time to get a job. I took a job at a hospital, working as a porter. In this position, you take on a variety of random tasks; moving patients around, taking samples to the lab, and even taking bodies to the morgue if you are really unlucky.
After this, I had a taste of working in healthcare and I wanted to continue in this field and combine my studies with healthcare. I started working 200 miles away from home at a large healthtech company. At the time, I didn't realise how large they were, however I soon learnt that between them and their direct competitor, they own around 90% of the market supplying EMRs. I did get a little homesick, so I returned back to my local hospital as a System Administrator. From there, one of the systems I used to administer had a job opening, which I applied to. I got the job as a Professional Services Consultant, which is essentially very similar to a Customer Success Manager. I stayed in that company for 7 years, progressing through the consulting grades before I applied with Visiba.
How is it like working, not in healthcare, but with healthcare? 
I've built my experience, my skills and expertise in healthcare and it is nice to have a job that means something – providing software that has an impact and a benefit rather than just being in a company that is trying to take over. I do enjoy it and I feel quite lucky about that. I like the variety – there's lots of customers and different people to go and see – I like working from home as well as being at the office, I like being on the side of customers and seeing their differences.
How do you experience the customer-facing aspect of your job? 
It's interesting! In my first couple of jobs, there wasn't a customer facing aspect in the sense that I have now – maybe you picked up the phone a few times but we wouldn't stand in front of people presenting, or training. When I first started as a Professional Services Consultant, it was an area that I was bit anxious about – I had never done this before, am I going to be able to stand in front of a group of people? But what has always got me through is telling myself that I have knowledge to share about the subject that I am talking about and I know it will make a difference to the people in the room.
The Customer Success Manager role is quite diverse – there's configuration, project management, training etc. Which part excites you the most and why? 
I would say configurations. I really enjoy visiting customers, understanding what they do, how they do it currently, and why. If you are going through digital transformation, you should never really try to replicate what you already do, otherwise, why go through this process if it is just about taking your paper basis and carrying it on to a computer. So, I try to see what they do and try to show them how they can do it better, why that's better and in what ways it can improve things for them. I like the challenge – some people will accept that and see it straight away. Others are a bit more stuck in their ways and don't want to change and I like the challenge of trying to convince those people that this is worth it. I enjoy taking the requirements and trying to improve the processes and configure them for them.
What is the most innovative use case you have seen so far? 
So far, the cleverest thing I have seen a customer do is with deep linking. One of our customers has been quite clever with using the unique buttons in their reception to direct the patient to the therapist picker on their website. The idea is that you go their website, you filter on therapists based on a variety of things, like gender, languages, any particular skills, expertise or types of therapy. After this filtering, there are deep links that take you back to the patient portal and show you the specific time slots for those therapists. It is a clever way of enhancing the functionality that we offer and it is still seamless – when you go through that process, you have no idea that you have left the patient portal or vice versa. To the patient, they are still in the same solution they entered and it is a seamless experience that builds on the Visiba functionality.
You have long experience of healthcare in the UK, but now you have also seen how healthcare operates in the Nordics as well. What is a challenge that is unique to the UK? 
In the UK, we like to talk a lot about change, and sometimes our need for process can get in way of the actual doing. If I give you an example, we launched 512 new clinics in 4 weeks in the Nordics, at the same time that we're discussing what to do in the UK. Saying that, I would say that pre-Covid Sweden has been ahead of us in their digital transformation journey, and during a crisis, it is understandable people revert to what they know.
The pandemic has pushed this transformation along for us and things are really starting to speed up. We are delighted that NHSE/I are now asking for suppliers to provide a white-label solution as we have seen the positive impact this has made to patients and healthcare providers in the Nordics.
What do you view as the biggest impact with digital health during the pandemic? 
When the pandemic came in the Nordics, a lot of regions already used Visiba or online consultations in general – the systems were already there, perhaps not used as much but it was a lot easier to adapt since the systems were in place; some extra people were trained and started using it more.
We found the same with our customers in the UK. Those who already had solutions in place like Livewell Southwest, were able to adapt very quickly and drive an awful lot of usage through their Visiba Care solution Livewell Connect.
It hasn't happened everywhere though. At my GP's, for example, they only do phone appointments – they have no video capabilities. When my son had a rash, we had to phone up, they rang back, they couldn't see the rash. Had we had a video call, we could have put up the camera and show them the rash.
Imagine you are Chief Digital Transformation Officer for the entire NHS. What are the first 3 areas you would focus on? 

I think things should be simplified. When people look at the list of systems available for use and there are 20 systems on there, and there's multiple lists covering slightly different things, maybe the whole process becomes too complicated. I can imagine if you are a hospital trying to work out which system to use, it's probably a nightmare! Which one should you go with, how do you know that they offer what you need. This process of acquiring a system needs to be simplified.
I would add, incentivising using digital systems and promote the benefits of that even more. A lot of the issues in the UK are around waiting times and people not attending appointments. There is already evidence from our customers that show that with online consultations, DNA rates are less, and appointments don't overrun as much. These benefits should be promoted and people should have an incentive to use a system – whether that is a limitation of choices or something else.
The other important thing to understand is that digital health is not supposed to cover everything: It's not for every pathway or for the entire pathway necessarily. There are different parts that can be digital and some parts that should be physical and that is ok. True digital transformation is change management, it's about education and showing the evidence of digi-physical pathways to clinicians and the aspect that it can be simplified for both sides. It's a tough job!
What drew you to Visiba? 
When I found the role, I really liked the idea of what Visiba does. Since digital meetings are a slow burner in the UK, I liked the fact that Visiba is really useful here – it's useful everywhere! – but there is a need for it here and I didn't see anyone else doing it. I like the product, I liked the fact that it is already has a history, where there are years of experience and proof of success. I didn't perceive it as too much of a risk or wondered whether this is going to work out, because it has already been successful. I liked the prospect of travelling and I am a bit sad that this is not an option during the pandemic. The Head of Customer Operations and the Head of People and Culture that interviewed me came across as really enthusiastic and that is really who they are. It shone through that this is place where people are excited to work. Johan, the CEO, even though he is at the top of the company he is really enthusiastic and approachable. It was as much the company as it was the role that drew me in.
What do you do when you are not working? 
A lot of family orientation nowadays: I have a young son who is nearly 10 months old now and that has definitely changed things – he takes most of my time which is great but I am still getting used to it! I like to cycle a lot, which I picked up during rehab after an operation I had at my knee – I like being outside and seeing new things and new local areas that I didn't know existed. I am quite a competitive person and it is a good sport to see how much you progress. I am also just back to playing football after the operation. Then I like to spend time with family and friends, which is difficult these days!
Would you share with us something unique about you? 
I have broken both of my elbows – I must have weak elbows!