For Jesper, our Customer Success Manager, innovation comes from challenges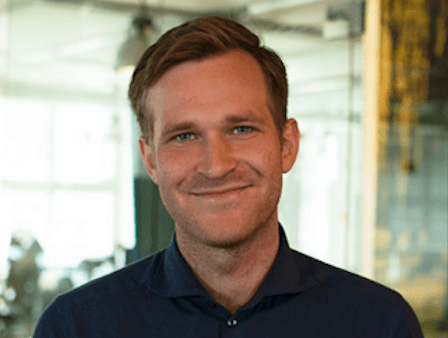 Jesper Lunnevi knows to his core that digital transformation is not a 'buy new software' type of project. A pragmatic and candidly honest person, he was enticed by the healthcare industry as he deems partnerships with them equally direct and focused. For Jesper, true innovation in digital health is evident when it profoundly impacts people's lives. Read what Visiba's Customer Success Manager –the second one on board!- says about healthcare, innovation, technology, and about himself!
Tell us a bit about your background.
I studied journalism in Gothenburg and I spent my first 7 professional years working for a medical devices company. I took different roles but they were all customer-facing: business development, product management, implementation, logistics, healthcare supply in the Nordics and I was a Customer Service Manager for the last 2 years. Then I worked at a small start-up in fintech, at solar energy companies in Africa, until I realised that I was missing the people from the healthcare industry. As customers, they are really interesting to work with in comparison to many other customer types. It is hard to get them to see themselves as customers and I find that to be a very interesting challenge. The balance between supplier and customer is really nice.
What is your journey at Visiba? 
At the summer of 2018, I came onboard at Visiba as a Customer Success Manager – the second Customer Success Manager at the time. I came in at a really interesting phase of Visiba: still a start-up but in a very early growth phase, where we were slowly establishing ourselves in our domain. I was also attracted to the fact that I would be working with innovation and healthcare, because back then, not that many companies were doing that. You would have to choose to either work with innovation or healthcare but Visiba came up as a very interesting combination.
What is a customer story that has surprised you the most?  
There are a lot of success cases but most of their success was easy to spot from the start. I'd go with Lidetta hälsovård: they have been a customer for 2 years and they were one of my first customers when I started at Visiba. It is one of the biggest primary care companies in Sweden, having around 35 GP centres. It is a large organisation and quite diverse as they have been growing by acquiring smaller GP practices during the years.
They started a digital transformation project 3 years ago, partly of course, to meet their patient's needs, but also to maintain their position when the private digital health players were coming into the picture in Sweden. In that very complex setting of a large provider facing change management, they had a big challenge– to centralise 35 different GP practices coming from different directions and backgrounds into working together in a central hub to provide that service to their patients. There was significant resistance from clinicians and management but they got it to work. In the end, the whole organisation worked together in a central digital hub – a big change from working in a more fragmented way.
What were the success factors of that story? 
I think the biggest success factor was a really strong commitment and conviction from the project team. They were irrevocably convinced that this is what they have to do to meet their patients' demands and there showed no doubt regarding the necessity of digital transformation. Of course, there were questions regarding the speed of their transformation or the way to achieve and sustain it, but always with the determination that this is not a matter of 'if' but 'when'. I see that as their secret: They never questioned the cause.
In your opinion, where has digital health made the biggest impact during the pandemic? 
The biggest outcome for me is the notion that accessibility is not tied to a physical location. A pandemic is of course lifting this aspect, but we have a flu season every year, we have patients who need to avoid being outside during flu season, patients who have a hard time moving around and shouldn't transport unnecessarily. So accessibility applies, not necessarily to opening up digital access to more patients, but to the patients most in need of it– it's about giving these patients the option to access healthcare services digitally, remotely, and to decrease their risk. It was brought to light that it's not always about the volume, the cost, efficiency; it's about people and everyone is now aware that getting digital to work this way is a huge gain.
Can you tell us one of the most innovative use cases of Visiba that you have encountered? 
I had a case with Region Västerbotten, where they managed to set up a remarkable technical solution with Visiba really fast; they had patients in ICUs who were really sick, sometimes terminal, and they were able to meet their relatives through Visiba and their relatives could say goodbye to them via video, not over the phone. I thought that was truly innovative: Not just looking at efficiency or cost but enabling patients in a critical situation to see the people closest to them during the pandemic.
What is it about technology that interests you? 
I wouldn't say it is the technology per se – Personally, I am more interested in people and change management. I think it is really cool to see the force of innovation in people in healthcare, and of course digital can support that. I see technology as a supportive mechanism, and I think Visiba can support in so many different ways and enable the people who are experts in their field, healthcare, to innovate. It is really interesting to provide healthcare professionals with such a tool and see what they do, and what they want to do with it. I love to see innovation and I love to see people facing challenges and innovating; finding solutions.
What is the best thing about working at Visiba? 
It's an obvious thing – the people I work with, but with an added layer: Everyone's engagement with the customers. It is something I personally have not experienced before. I see a lot of engagement with what the customer is trying to achieve. Everyone jumps in to support them and has a vast interest in their challenges and in helping them succeed. It gives me a lot because when something requires all hands on deck, it becomes clear that the hands are already there! My experience is that at Visiba, 'partners' describes every employee's relationship with healthcare better than 'customers'.
What does Jesper do outside of Customer Success? 
I spend time with my family; I am raising two kids, and I have a cat now – I am not sure which one is harder to raise but I think the cat is more independent! Now with the pandemic, I run a lot – 4-5 days a week. I ran a lot in the past but I did not do it as much as I had less personal time but I found it again this year! I also read a lot, I'm very interested in history, so I pick up historical novels; I'm trying to get away from the screen and holding a physical book!
Tell us something weird or quirky about you! 
I am really unweird – in fact, when we did the scaled personality test here at Visiba I was in the middle on every level. As fun facts, I was on Swedish Masterchef, I am a good carpenter and I'm also pretty good at drawing – I am not an artist but I am surprisingly good! I dreamt of being an architect, so I am trying to live that dream on a really small scale, by drawing houses with my children.