Get to know one of our Product Owners and UX designers – Simon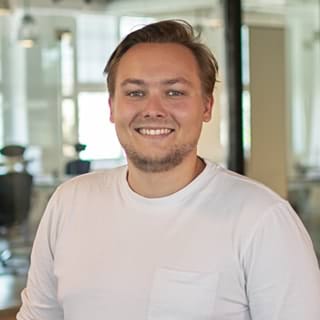 Who is Simon?
I moved from Vaasa to Lund for my studies in Biomedical Engineering. It's a very broad programme that includes everything – from medical imaging technologies like ultrasound and MRI, to advanced signal processing algorithms and biomechanics. During the later stages of my, I decided to specialise in e-health, so I took some courses and did my thesis within Interaction Design. The combination of UX and biomedical engineering is quite unusual I'd say, but very useful. 

What do you do at Visiba Care?
I started working at Visiba Care in 2018 as a UX designer. The responsibility of a UX designer, among other things, is to ensure that the products we create are usable and solve problems for our end-users. To do this, we need to do proper research, observe, and talk to users, before we create a variation of prototypes – which we then iterate until the needs are met and the problems are solved. My main area of responsibility as a UX designer is the interface for our healthcare professionals. Apart from this, I also quite recently took on the Product Owner role for our patient interfaces - for which my colleague Sofia is the main UX designer. It is important that we exchange ideas, so that we can keep track of the needs of our users and customers. Being able to hold together priorities and building the right things at the right time are also parts of the work, which means more strategic planning and tight collaboration within the product team and the rest of the company. Being one of the first in our Product team, I also have a few other responsibilities like product texts and release notes. I guess "Product person" would be quite a good description of my role here at Visiba Care!
What makes Visiba Care a good place to work?
What I like the most is that everyone is so involved and passionate about our mission to develop and improve healthcare and to make it more accessible. I also like that all my colleagues are very motivated and ambitious, which really inspires me. I appreciate the flexibility – the fact that you can work from home, or anywhere really, and if I get inspiration in the evening, I can work late and take a late morning the next day, you have a lot of own responsibility. Another source of inspiration is that we have so many customers and users who want to be involved in developing the product together with us, so that we really can build a product that they will use. 
What will you focus on next?
On a professional level, I will focus on my own development as a Product owner; to be able to successfully push the strategic issues around patient interfaces even better, as well as getting closer to the patients who use our product, to really understand their needs on a deeper level. Actually, after succeeding in my last year's personal goal of running a mountain marathon, I'm currently thinking about putting my young years as a competitive swimmer to use and take up swim-run towards the summer!