We proudly present one of our Product team stars – Anastacia Simonchik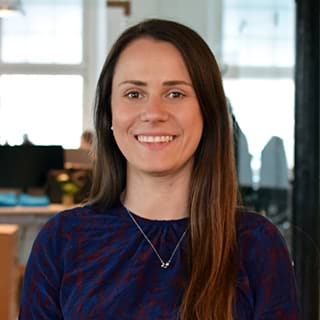 With activity that touches all parts of Visiba Care and a strong drive to make healthcare smarter for both patients and healthcare providers, we look forward to continuing to work with you!
Hi Anastacia! What do you do at Visiba Care?
I am part of Visiba Care's Product team and my role is to develop Visiba Care's future products and markets. Right now, I am leading the project of developing our AI-based solution for both patients and healthcare providers, Red Robin.
Can you tell us a bit about your background?
I most recently come from an IT consulting company called Cybercom, where I helped large and smaller companies with digitalisation. The companies were both Swedish and international, and we worked with developing new digital products and services, smart manufacturing, and self-driving vehicles – among other things. I have a background in project management and entrepreneurship, where I have some startup product development projects myself. I have also been part of a research team in business model innovation. I came to Sweden almost seven years ago for my Master's degree in Innovation Development, which was a continuation of my Master's degree in Belarus. In addition to Sweden, I have lived in Greece, China, and the US, all in all for almost a year and a half.
Why do you think Visiba Care is a good place to work?
I like Visiba Care because the company operates in an exciting context, where we create solutions that make a real difference for people. I am inspired by the fact that we are looking for new ways to create value from technology together. For us to reach our goals, everyone has to work towards the same direction and it feels like this is what we do at Visiba Care. I think that, at Visiba Care, I get a lot of support from my colleagues and there is a joint effort to foster all teams to make progress. The work is dynamic and we have a lot of freedom, which is very exciting. It is also a very good context for individuals to take a step forward in their own development and to create their own idea of how things are done and what they can contribute with according to their own strengths.
What will you focus on for the next 6 months?
For the next 6 months I will be working hard with the first release of Red Robin. I will also focus on becoming the best colleague I can be and becoming an organic part of the Visiba Care family. I will also strive to constantly improve our way of creating the best product. On a personal level, I will invest in trying to learn how to love running, partly with the help of my colleagues.